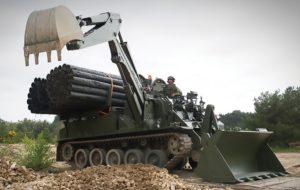 We have a long history of gear development and manufacture for defence products.
We supplied almost all the transmission gears in this Terrier vehicle.
A clam shell front bucket and side mounted excavator arm that allows the vehicle to perform earth moving and removal tasks. It has mine protection and can be operated by remote control from up to 1,000 m (3,300 ft) in dangerous environments such as mine clearance. In normal operations it has a crew of two. It has enhanced modular armour and is faster at up to 70 km per hour and more mobile than the FV180 Combat Engineer Tractor, and has 360 degree day and night vision systems. The contract to design and build the vehicle was won by BAE Systems Land and Armaments in the UK in July 2002.
We also currently supply components for military surface ships.